Launching our first Obsessed Live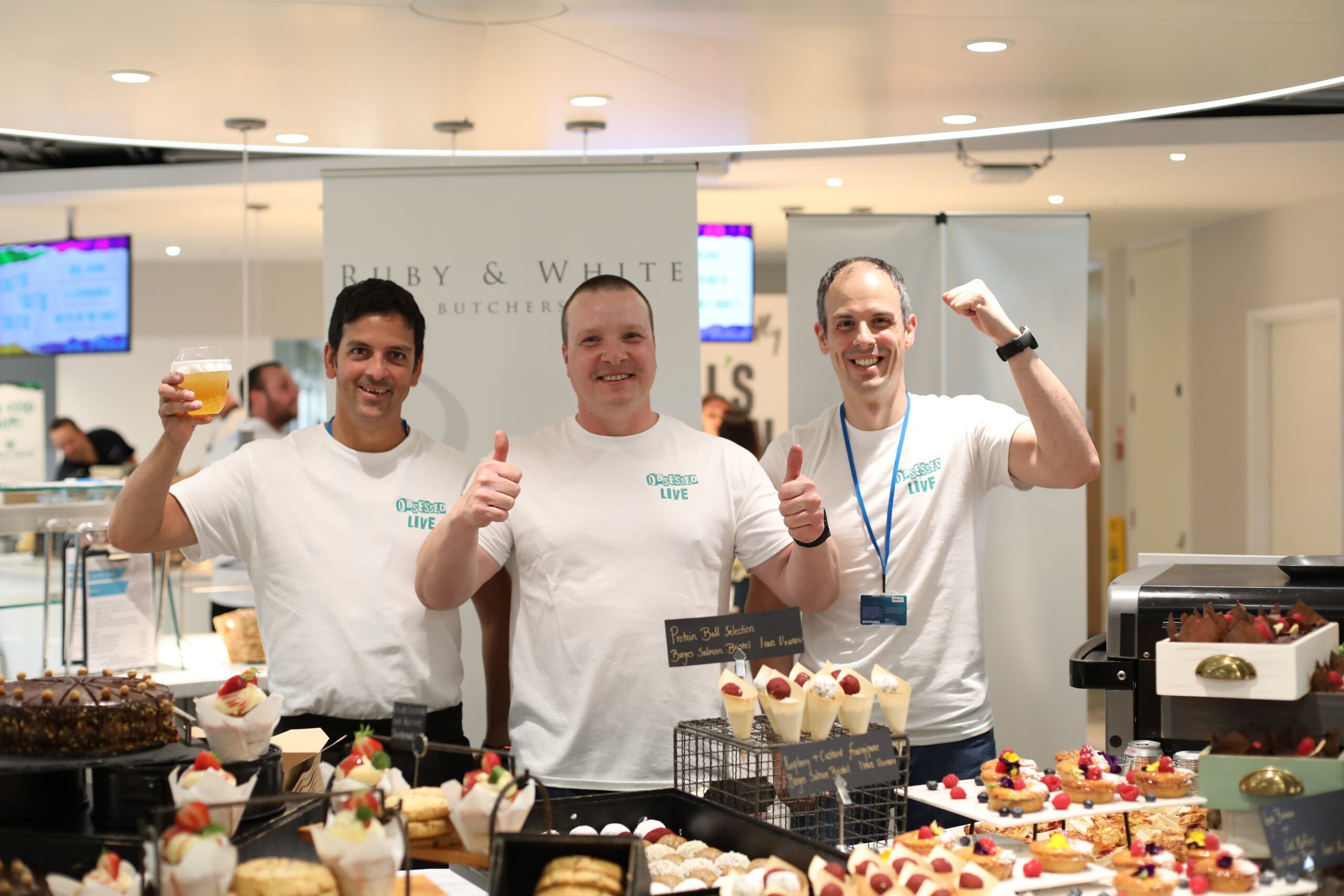 We're still drooling from our first Obsessed Live event, hosted by our talented taste makers of the South.
Over 100 guests, including clients and suppliers, attended the showcase at RWE. Led by culinary lead, James Baker, chefs took centre stage at one of the biggest gourmet events of the year.
Head chef, Chris did a zero-waste themed cooking demo, making fresh pasta using leftover breakfast sausages. He transformed them into sausage pasta with a red pepper, slow-roasted tomato and garlic sauce, topped with hazelnut crumb, shallots and crispy oregano.
Pastry chefs from across the region came together to deliver our first Pastry Collective. Guests tucked into gin and tonic cake with blueberry buttercream, raspberry and custard frangipane tarts, Eton Mess loaf cake and pina colada cake. Continuing the cocktail theme, Extract Coffee were on hand to bring the party with their ever-popular espresso martinis.
Chef manager Mel represented Project Knead with a stack of freshly baked breads, from fennel and date, sun-dried tomato and feta, marmite and mature cheddar soda bread, and vegan moon egg sandwiches. The miso and herb, and gochujang and honey butter boards were a hit with guests dredging their bread through the artful arrangements.
Regional chef Sean used the opportunity to launch his new street food venture, the Food Studio. Chef Marcus brought flavours of India with his samosa chaat, tandoori-spiced chicken with turmeric slaw, flatbreads, tamarind and mango yoghurt and chickpea; and kathi roll.
Waste Knot and wellness duo, Lizzie and Andy were on hand to give guests a taste of their Food and Mood roadshow with show-stopping salads and protein that packs a punch. Guests learnt about the importance that food can have on your mood, as they tucked into samples of edamame bean, green bean, spring onion and maple granola; Ruby & White ham hock and black pudding fritters; and BBQ pulled pork sausage rolls with tarragon mayo and celeriac remoulade.
Head of People Operations, James Ettridge said: "Obsessed Live was a fantastic celebration of all things that we are good at! I was blown away by the food; the creativity by our teams was incredible, not forgetting the support from suppliers. These events are such a good opportunity to catch up with colleagues from across the region and share success stories too".