My Food Journey: Nathan Cooper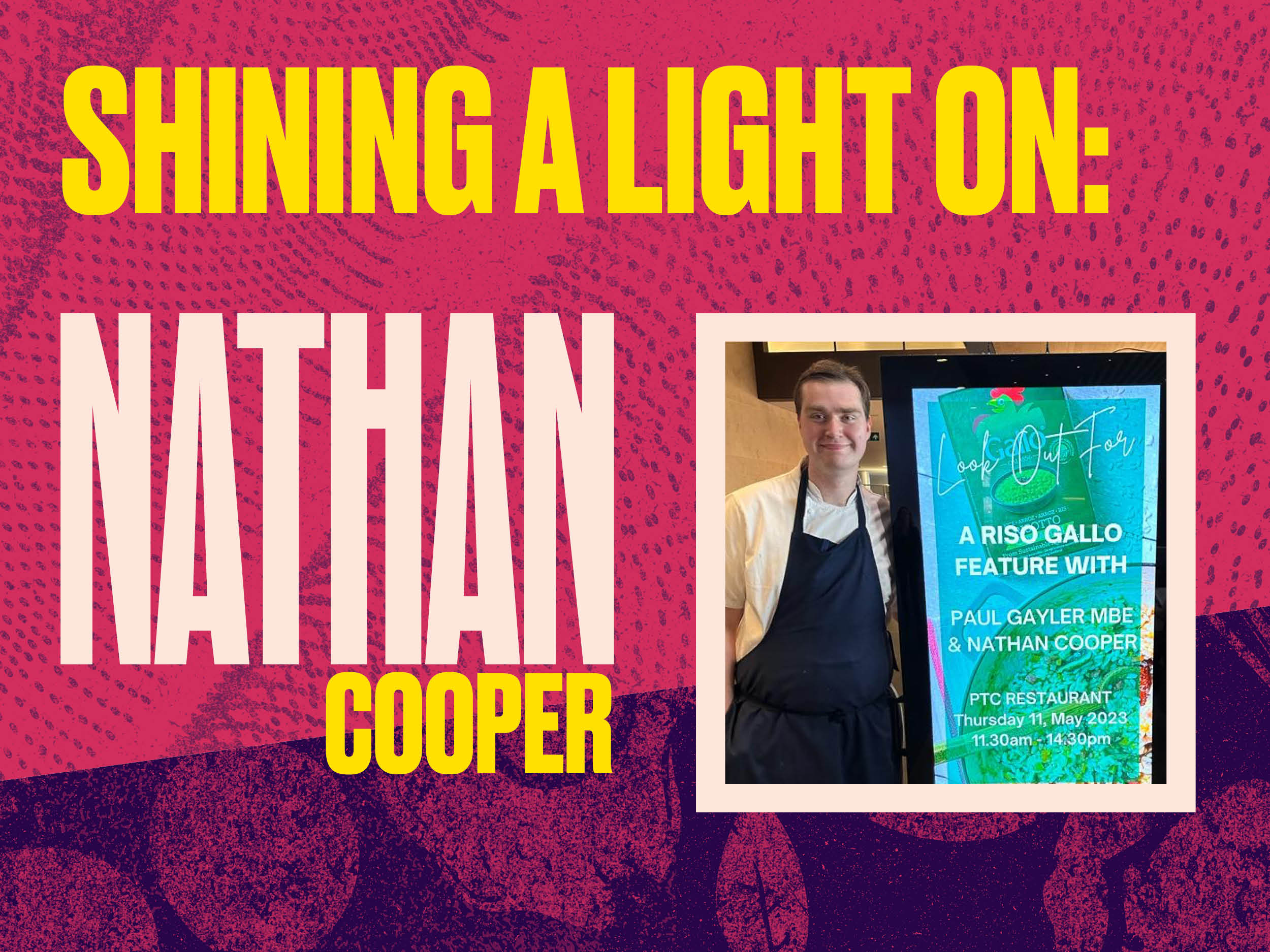 We're kickstarting our 'My Food Journey' series with our first guest, 23-year old chef de partie, Nathan Cooper. Nathan chatted to us about chef life, his stage at Trinity and culinary competitions. 
Nathan, how did your career into hospitality begin?
In 2016, I studied a three-year culinary course at Westminster Kingsway which was brilliant – I learnt so much there. I then moved to Florida where I worked in a golf club for a year, before coming back home where I started working in my local fishmongers.
Who inspires you?
My exec chef Simon Webb and my Mum who got me into cooking at such a young age.
Give us a sneak peek into kitchen life.
I joined BaxterStorey in July 2022 as chef de partie and what I love most about my job is that we're not confined to our sections. Right now, I'm rocking the sauce section but also dipping my toes into desserts and pastry. As the only savoury CDP (and youngest in my team), I spent a solid 9 months running the larder section, surrounded by some seriously seasoned chefs. We're a busy team, with breakfast, lunch, fine dining dinners and finger food all on the menu. 
I also joined the Chef Academy on level 3 two weeks after joining BaxterStorey. I wanted to understand more about the company and while I've got the time, I thought it would be a good opportunity to bulk up my knowledge.
Tell us about your recent competitions.
My first competition was Young National Risotto Chef of the Year back in April and I was chuffed to come 2nd. I had to create a seasonal risotto so packed it with seaweed, scallops, squid and mussels – it was bright green!
I'm in the final stages of the Craft Guild of Chef Graduate Awards. I was tasked with creating a dish which was 50% potato, so I made a pomme souffle stuffed with Cheddar cheese custard, potato mousse, and sweet and sour leeks. The final is on the 2nd September, so watch this space!
Where does your inspiration for your dishes come from?
Lots of research of trends on Instagram and Simon and I are always bouncing ideas off each other. He's great at helping me balance the flavours of a dish.
What's your favourite dish to cook?
That's a tough one! It'd have to be a crab ravioli and bisque – simple but delicious.
What are you doing to fuel your individuality?
I've just finished a two-day stage at Trinity, Adam Byatt's restaurant, which was incredible. It was thanks to Andy Aston that I got this awesome experience; I learnt so much about classical cooking techniques and how a professional kitchen like Trinity runs day to day.
I predominantly worked in the larder and then helped with lunch prep, floating around the sections as and when they needed me and plating ready for service. We did 40 covers for lunch and 40 for dinner. The main takeaway for me was seeing how they operate in such a small space – they do an amazing job.
One of the dishes on the menu was a Iberico pork, Coco de Paimpol bean ragout with a white bean hummus made using Iberico pork fat. Coco de Paimpol beans aren't an ingredient I've used before, so it was great to see how they experimented with flavours and cooking techniques.
When you're not at the pass, what are you doing in your spare time?
I love to support The Burnt Chef Project with their charity fundraisers. Our last one in March was a Texas-inspired tasting menu. My dish was a fried pork rib topped with a glaze jus and sweetcorn salsa.
Stay tuned for more mouth-watering insights and behind-the-scenes scoop!