Silver Service: Celebrating 25 Years in Hospitality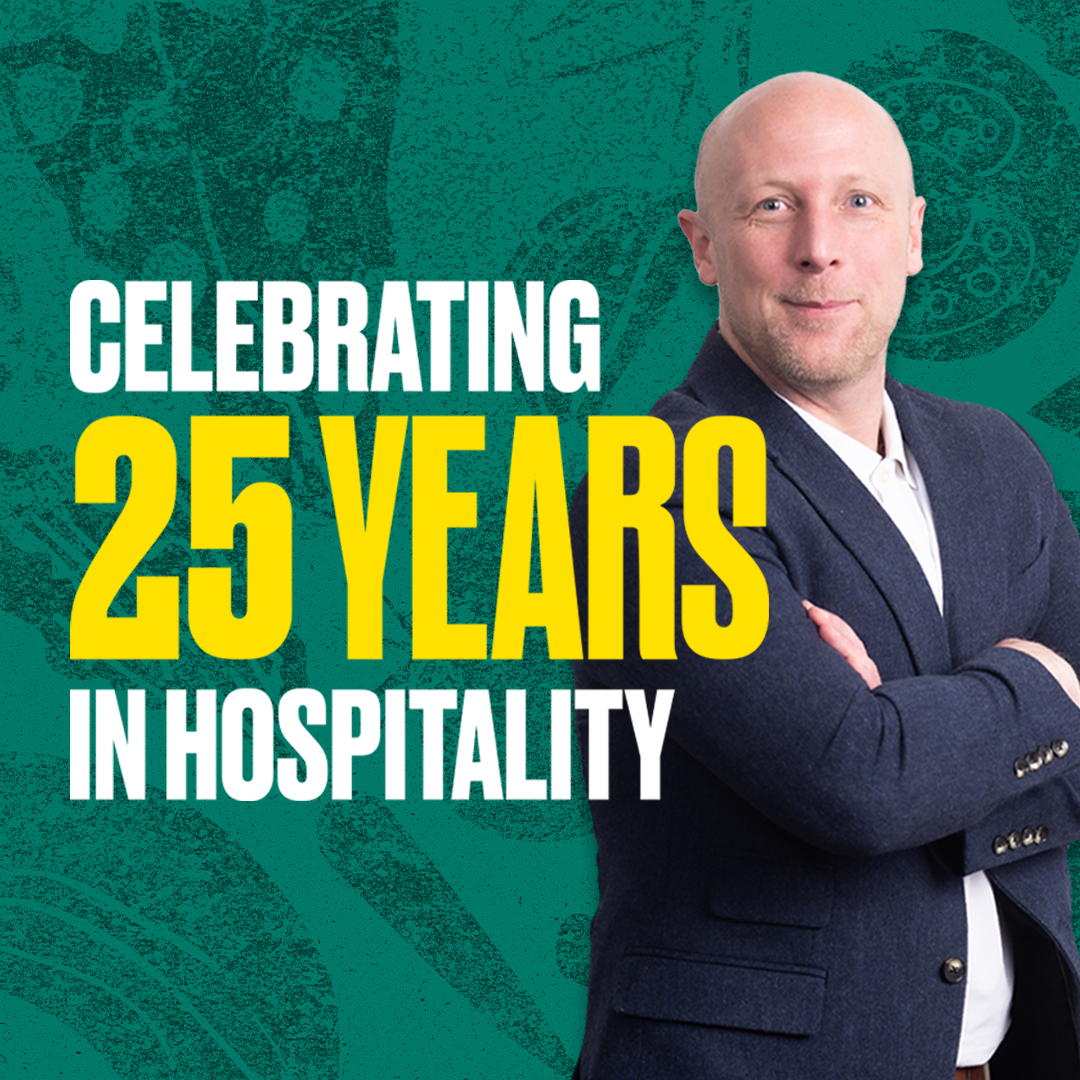 Michael Cunningham, our very own success story, started with us as a barista at Oracle after leaving college at 18. Fast forward 25 years, and he's rocking it as our operations director.
We caught up with him to talk about his journey and how the foodservice sector has evolved:
Do you remember your first day?
I remember the induction and training for the role being very brief back then! I didn't get any guidance on how to froth milk or coffee extraction time like our baristas do now. If I was to serve today the coffee I would have served to my customers 25 years ago, I would fear the consequences! I was however made to feel very welcomed by my operations director at the time.
When I look back, it amazes me how far the service experience has evolved. It makes me chuckle thinking back to the till technology that was in place at the time; I used to avoid using the till as much as I could!
Tell us about your journey from barista to operations director?
Within my first 12 months at Oracle, I joined BaxterStorey's trainee management programme. I quickly moved into a manager role after that and never looked back.
As I've moved through the ranks over the years, I've always been determined to not overlook the different operational pressures that you experience at every level. As an ops director, it's really important to me that I can continue to influence and nurture our future stars and give them the support that was afforded to me.
I look after a fantastic team of 270 people within the south of England, specifically the Thames Valley region, running 28 locations for 23 clients from workplace restaurants to film studios!
How has the world of foodservice changed over the years?
There's been so many changes, but one that stands out is the vast number of legislative changes for food safety compliance. Whilst they are really important for giving our customers the safest hospitality experience, it's brought a raft of additional accountability to our teams on the floor. I honestly admire the abilities and efforts of my team as I often wonder how I would have coped!
Technology is another big one. The sheer evolution of the use of it in our industry is mind-blowing. Whilst we saw tech solutions evolve rapidly during the pandemic, the capabilities we have at our fingertips now, with click and collect, and self-payment checkouts, compared to 25 years ago leaves us with no excuse for not delivering an awesome experience for our customers.
Tell us about WOW and why it's important to you that we create an inclusive workplace.
During the pandemic, we instigated a conversation with the Board regarding the wellbeing of our teams and support tools that needed to be in place. A group of us wanted to 'own' this objective and move it forward, so we created WOW (Ways of Wellbeing) – our first Employee Resource Group. At the time, I'd recently gone through a fairly traumatic life experience involving one of my team members. My exposure and experience of the whole situation opened my eyes to mental health in a way I had never appreciated before. For me, it was an honour to be asked to represent WOW to help make a difference however I could.
It's been an absolute pleasure leading the WOW team for the past two years (albeit some what a juggle with the day job!) Working alongside Lyndsey, our head of ED&I has been amazing and motivated us to do better.
What's your favourite part of your job?
That's an easy one – just working together with our teams, customers, and clients. I try to avoid being stuck behind the laptop as much as I can. I like to be in amongst my teams witnessing the great stuff we're doing for our clients, as well as being able to give constructive feedback on how we can continuously raise the bar.
What has been your biggest achievement?
Whilst I am immensely proud of the work, I am part of with WOW, for me my greatest achievement must be the scale of success I have had seeing the personal development of many of my team members. Whilst I have been blessed to be able to work with some exceptional talent, I'm surrounded colleagues (who like me!) are all clocking up some seriously long service!