Beetroot, Ginger and Feta Samosas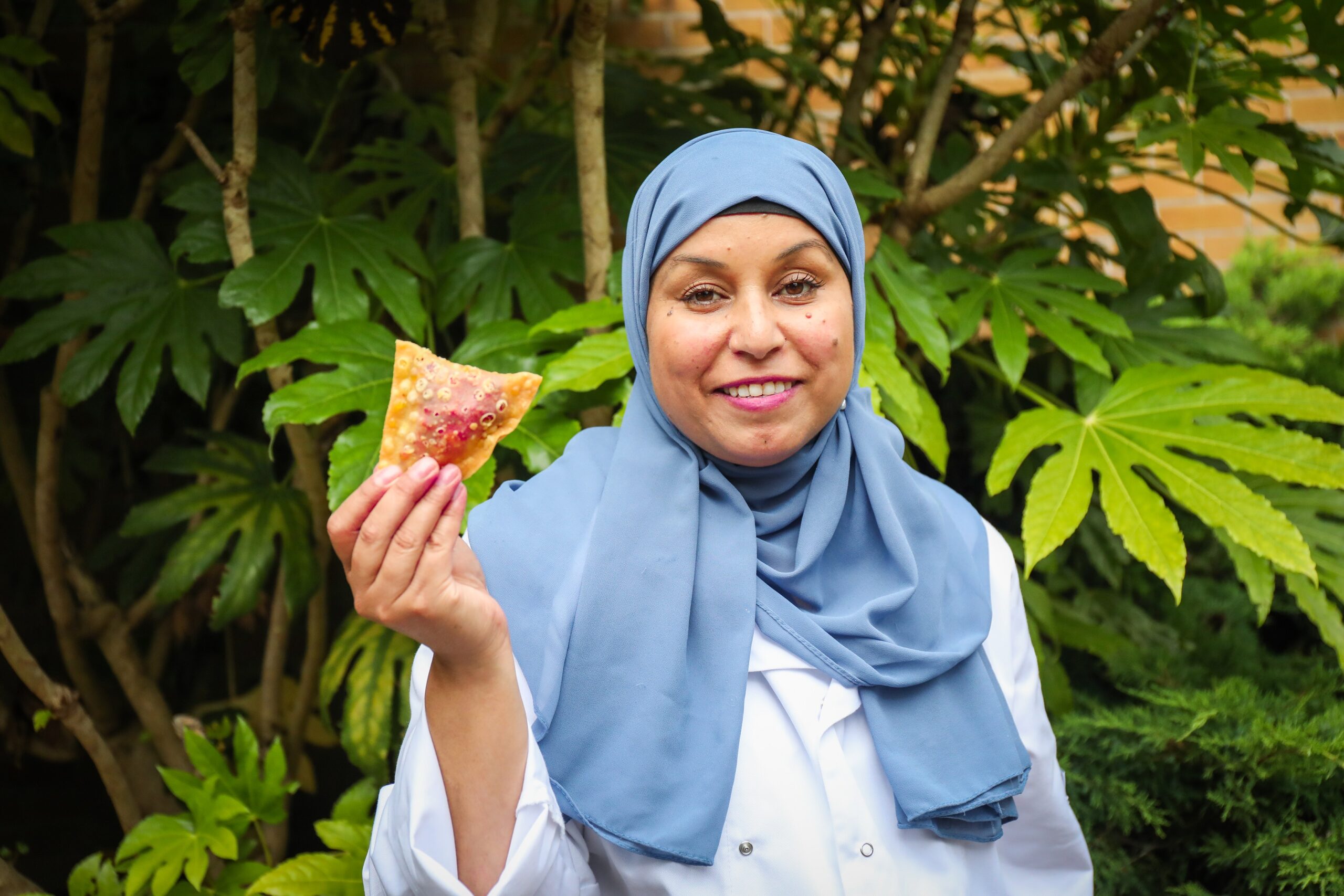 Makes 20 portions
Ingredients:
400g fresh beetroot, cooked and diced
1 tsp fresh ginger paste
200g Feta cheese, crumbled
1 small onion, diced
1 tsp smoked paprika
1 tsp cumin powder
1 tsp garam masala powder
1/2 tsp crushed chilli
1/2 tsp garlic powder
1tbsp fresh coriander leaves, chopped
200g plain flour
1 tbsp oil
Salt, to taste
Method:
In a small pan, boil the beetroot until tender (for approx. 1 hour).
Drain, cool and peel off the skin. Cut into small cubes.
Use kitchen roll to dry the beetroot cubes to remove any excess moisture. The beetroot should be very dry.
In a separate pan, heat the oil and add the diced onion. Cook for 2-3 minutes, add garlic and ginger paste. Cook for another minute.
Add all dry spices except cumin and garam masala (which will be added later).
Add a splash of water and stir for a few minutes. Add diced beetroot, mix well and cook for five minutes.
Then add crumbled feta into the beetroot and mix well.
Before removing from the heat, add cumin, garam masala, chopped coriander and mix well. Turn off the heat to leave it to cool before filling the samosas.
To make the samosa pastry dough:
Put the flour and salt in a mixing bowl. Add oil and mix for 1 minute to create a breadcrumb-like texture.
Start adding cold water gradually and knead until you get a smooth dough.
Cover with a damp kitchen towel and let it rest.
To prepare the samosa:
Heat the flat pan on a low flame.
Take two dishes, put oil in one and plain flour in another.
In a cup, make a plain flour paste to seal the samosa dough.
Take the dough and divide it into 10 portions in a round ball shape.
Take one ball and dip it in oil first, then the flour. Roll it into a round shape and cook it each side for 20 seconds. Cover the cooked samosa pastry with a damp kitchen towel to stop the samosa pastry from drying out.
Cook the rest of the pastry following the step above.
Remove cooked samosa pastry from under the damp kitchen towel and cut it from the middle to give two semicircles. With 10 pastries, you can make 20 samosas.
Take each semicircle and fold onto the straight side to form a triangle.
Seal one side of the triangle with flour paste. Do this for the remaining pastries.
Fill the open side of the pastries with beetroot feta prepared earlier.
Seal the samosas with flour paste.
To fry the samosa:
Put plenty of oil in a deep pan over a medium heat. When the oil is warm enough (it doesn't have to be too hot), add the samosas carefully, frying them in small batches.
Fry them on a medium-low heat for 8-10 minutes, until they are golden on both sides.
Remove the samosas and place them on a plate with the greaseproof paper, to remove the excess oil.
Serve them hot.