Chocolate Babka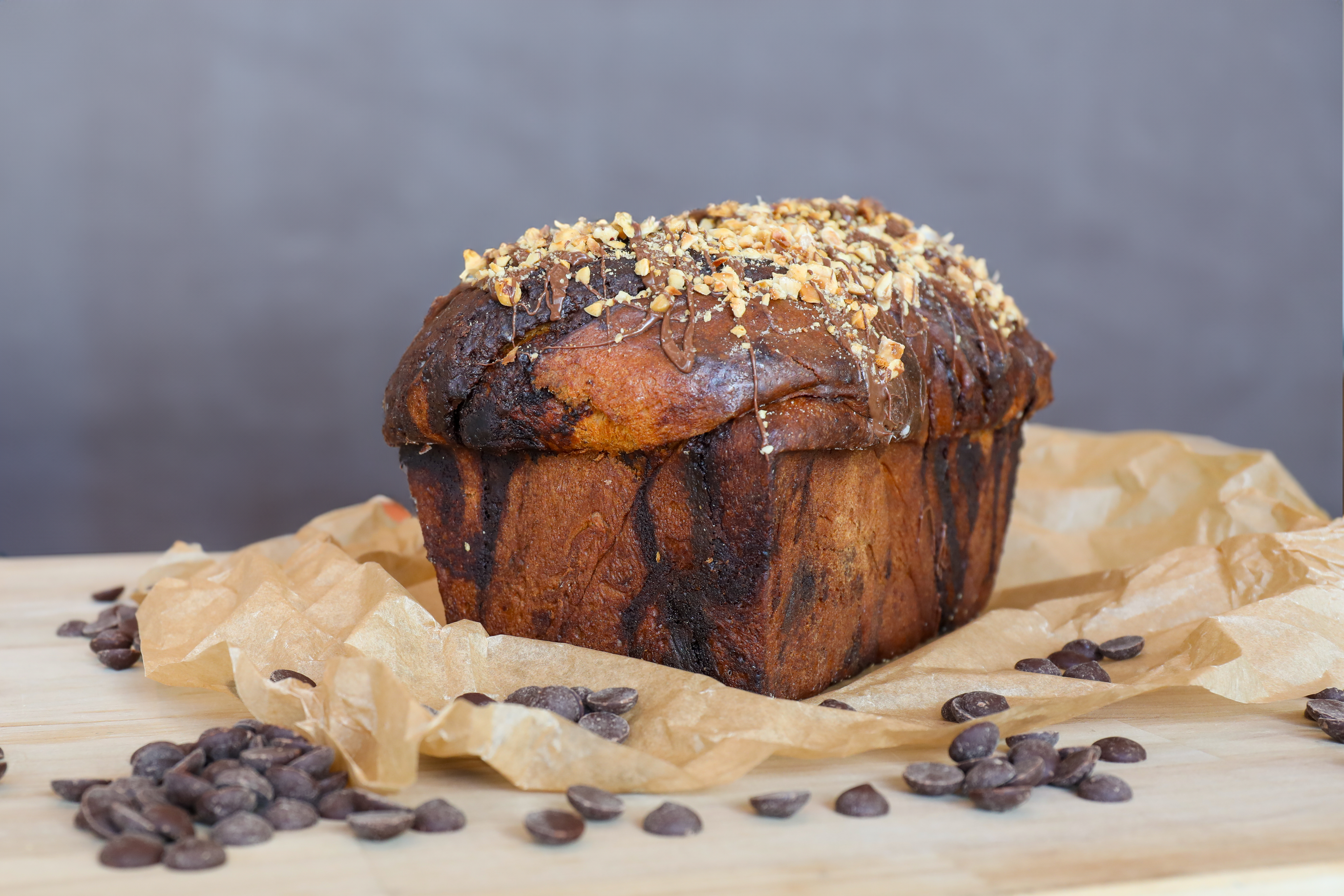 Ingredients
100ml whole milk
550g strong white bread flour, plus extra for dusting
100g caster sugar
21g fresh yeast (7g dried yeast
4 large eggs
150g unsalted butter, cut into cubes (room temperature)
Chocolate spread (homemade)
200g hazelnuts
½ tsp salt
Sugar syrup: 100g caster sugar and 100ml water
Method
Warm the milk in a pan over a low heat, no warmer than 37'C. Set aside.
Put the flour in a bowl of a stand mixer and dough hook. Add salt to one side of the bowl and sugar and yeast to the other.
Whisk using the dough hook attachment until fully combined.
Pour in the warm milk, then with the mixer on medium, add the eggs one at a time.
Mix the dough for 10 minutes until smooth.
Gradually add the butter, one or two cubes at a time, until fully incorporated.
Scrape the dough into a large bowl, cover and leave to prove for 1 hour, 30 minutes – 2 hours until doubled in size.
Once doubled, pop in the fridge for one hour.
Remove the dough from the fridge and roll out onto a lightly floured surface to a 70x40cm rectangle.
Spread the filling evenly over the dough with the shorter end closer to you, roll the dough up into a tight roll resembling a Swiss roll.
With the seam-side down, cut in half along the length, so you have two long pieces with long strips of chocolate on one edge.
Lay the two pieces out in front of you, parallel to one another, and cross them over each other along the length in a plait pattern. Bring the edges in when you get to the end.
Transfer to a loaf tin and cover. Prove for an hour or until double in size.
Heat the oven to 160'C (fan) and bake for 35-40 minutes until golden.
Whilst cooking, make the sugar syrup. Tip the sugar and water into a small pan, bring to the boil over a medium heat, stirring until the sugar dissolves. Reduce the heat and simmer, without stirring, for 5 minutes, until syrupy. Leave to cool.
Once removed from the oven, brush the sugar syrup over the loaf.
Roughly crush the roasted hazelnuts. Warm some chocolate spread and drizzle over the top, finishing with a sprinkling of hazelnuts.