Crème egg scotch egg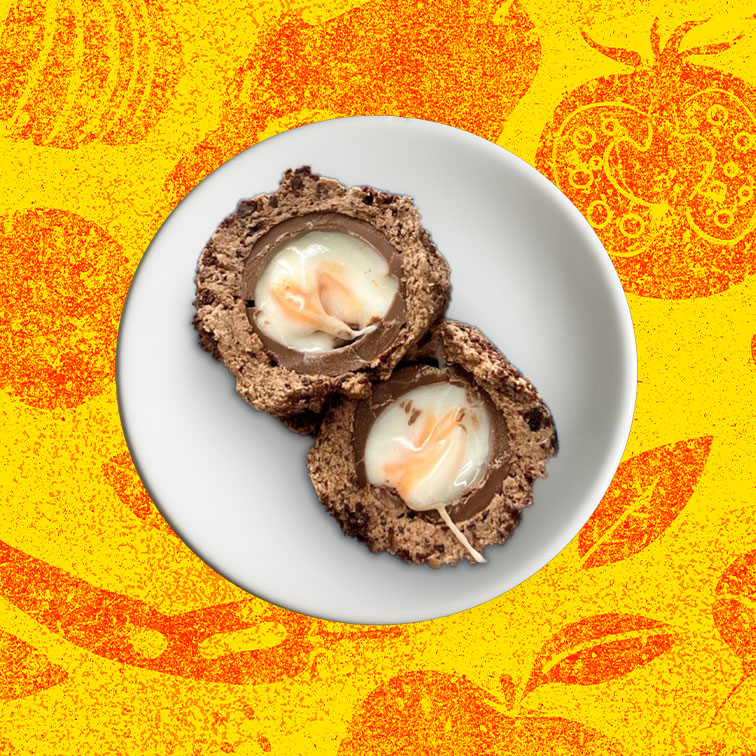 Sous chef and Chef Academy star, Louis Brown's upped his game this Easter with these Crème egg scotch eggs.
Ingredients
10 – 12 crème eggs
For brownie
185g salted butter
185g milk chocolate
85g plain flour
40g cocoa powder
3 large eggs
275g  caster sugar
For buttercream
400g icing sugar
200g softened butter
25g milk chocolate
150g chocolate sprinkles

Method
Pre-heat oven to 170'C. Start by making the brownie. Melt the butter in the microwave and add the milk chocolate. Whisk together so the chocolate and butter comes together.
In a high speed mixer or by hand, whisk the sugar and eggs together until pale and creamy. They should also increase in volume.
Add in the chocolate mix half at a time, stopping the eggs from cooking. Once it is all combined, fold in the flour and cocoa powder.
Use a 20cm x 20cm sized tin. Grease the tin with some butter or oil, and if you like you can also use a layer of baking paper.
Bake until the centre is no longer gooey, for around 17-25 minutes. Use a fork or toothpick coming out clean from the centre to give you a good idea if your brownie is ready.
Allow to cool.
Finishing the crème eggs:
Make the buttercream by taking the soft butter and icing sugar and simply mixing together. Use a splash of milk if you are finding it difficult to combine the two.
Melt 25g chocolate in the microwave for 10-15 seconds, and mix into the buttercream mix. This shouldn't effect the consistency of your buttercream.
Using a food processor, blitz the brownie until it becomes crumbly. Bit by bit, incorporate the brownie into the buttercream. Do this in small amounts as you may not need the entire brownie. You can also break the brownie by hand and add to the buttercream if you don't have a food processor.
Lay a small piece of cling film across the flat palm of your hand. Use a small amount of buttercream, mix and flatten across your cling film. Place the Crème egg on top of the buttercream in the middle, and using the clingfilm and your hand, wrap the buttercream around the Crème egg. These are quite sturdy so get stuck in and wrap the entire egg in buttercream. You can also do this with gloves or without any plastic wrap whatsoever and will still work (but it might be trickier!)
Roll the finished egg in your chocolate sprinkles. Enjoy in large quantities!