One Pot Curry in a Hurry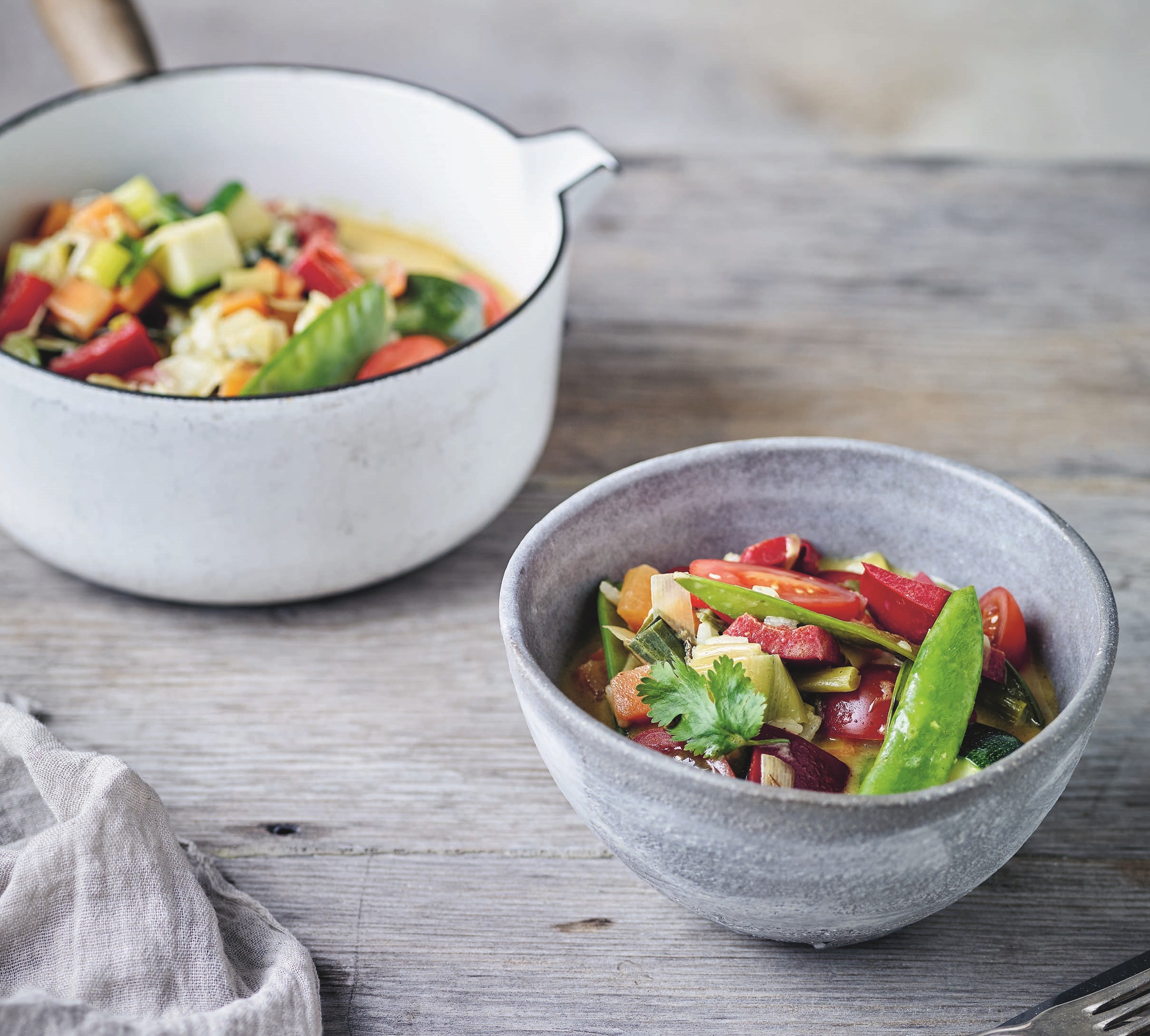 Have you had a long day at work? Can't be bothered to make dinner? Do you just want to chuck everything into a pot and let it cook itself? Then this is the dish for you! By the time you have put on your comfies and slippers this creamy, indulgent one-pot curry will be ready to be enjoyed. Make extra and freeze to save yourself even more time the next time you're late home. You're welcome!
Ingredients
2 tablespoons olive oil
1 shallot, finely chopped
1 garlic clove, peeled and chopped
1 tablespoon good-quality yellow curry spice mix, plus more if required
1 carrot, chopped into small pieces
1/2 aubergine (eggplant), chopped into small pieces
1 potato, chopped into small pieces
45g dried red lentils
400ml coconut milk
1tbsp peanut butter
Big handful of spinach
Big bunch of basil
Salt and pepper, to taste
To serve
Pomegranate seeds
Chopped peanuts
Squeeze of lime
Coriander (cilantro) leaves
Method
Heat a frying pan (skillet) over medium heat.
Add the oil and gently fry the shallot and garlic until transparent. Then add the curry spice mix, carrot, aubergine and potato and fry for another 5 minutes.
Stir in the lentils followed by the coconut milk and simmer over low heat, covered, for 25 minutes.
Remove the lid, taste and adjust the seasoning with salt or more spice mix, add a dollop of peanut butter and stir in a handful of spinach and basil.
I love to scatter over pomegranate seeds and peanuts for extra crunch and give it a final squeeze of lime to cut through the creaminess of the curry, then throw over a few coriander leaves and edible flowers, to add some colour.
Serve as it is or with some steamed rice, quinoa or buckwheat on the side.
Top tip: Curries are great when cooked in bigger batches – often they taste even better the next day because the flavours have had a chance to marry.