Pistachio Roulade Yule Log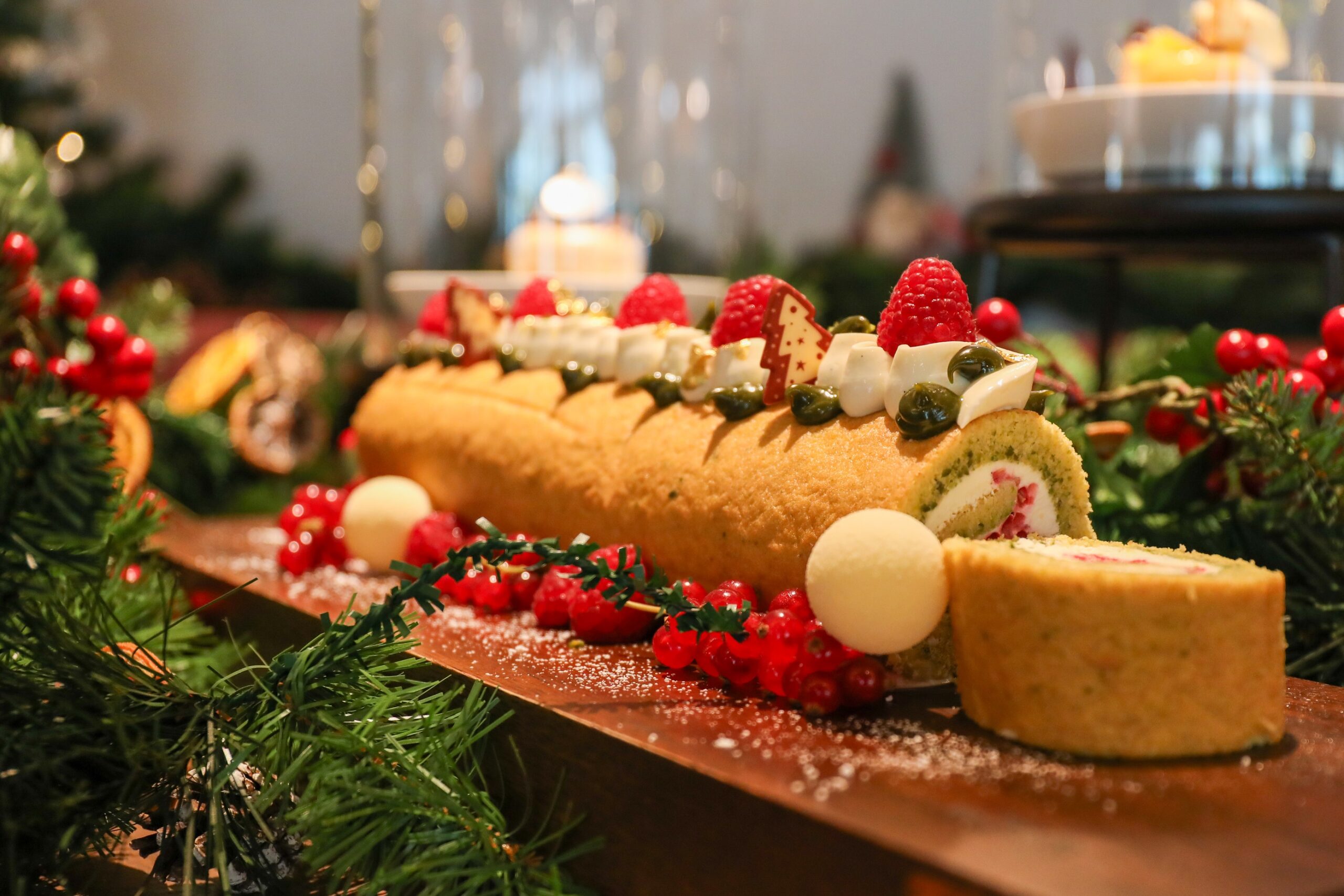 Serves 10
Ingredients
Pistachio Sponge
70g shelled pistachio kernels, plus 15g for garnish
4 large eggs (whites and yolks separated)
130g caster sugar
2 tbsp hot water
80g self-raising flour
1/8 tsp salt
1/8 tsp almond extract
20g icing sugar
300g fresh raspberries
Filling
250g double cream (35%)
30g caster sugar
5g gelatine, hydrated with 30g ice cold water
125g mascarpone
Method
Mascarpone Filling
Heat 250g of double cream with a vanilla bean and add 30g of sugar.
Add 5g of gelatine with 30g water and hydrate.
Pour the hot double cream mixture over the hydrated gelatine, mix and allow to cool.
Hand blend the mascarpone into the cold double cream mix and allow to rest in the fridge for at least 4 hours.
Whip when needed to form soft peaks.
Pistachio Sponge
Pre-heat the oven to 180'C.
Place 70g of pistachio into a small food processer and grind until fine but not oily.
Place the egg yolks and sugar into a kitchen aid and whisk for around 4 minutes (thick and glossy).
Add the hot water slowly and keep whisking until cooled.
First fold in the ground pistachio, followed by the flour.
Beat the egg whites in a clean bowl to form soft peaks and fold this into the pistachio mixture.
Gently scrape the batter onto a tray and bake until the cake springs back when lightly touched.
Remove cake and allow to rest for 5 minutes.
Make sure the cake is still warm and roll the sponge up in a clean tea towel and set aside until cool.
When cooled place sponge onto parchment paper ready to be filled.
Assemble
When ready to assemble use a small pallet knife and spread the whipped mascarpone mixture over the surface of the sponge, leaving a border of abut 2cm.
Place your fresh raspberries randomly into your mascarpone mixture and roll the cake up as you did before without the tea towel.
Transfer to a long platter and garnish how you wish.
Head to our Instagram to see how chef Alex crafts this tasty twist on a classic Christmas yule log.