Pommes soufflé, Cheddar cheese custard, potato mousse, sweet and sour leeks, seaweed caviar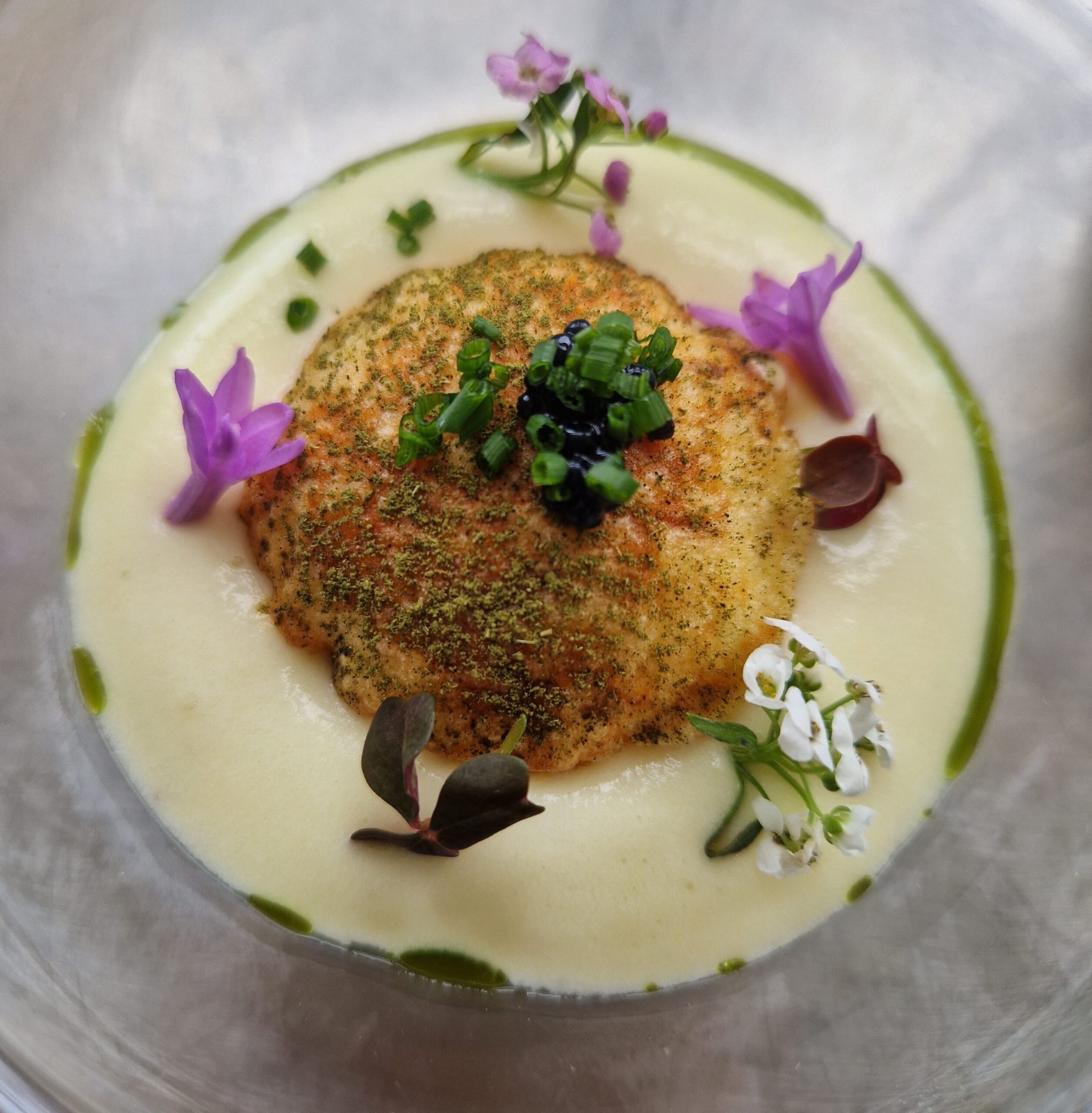 Pommes soufflé ingredients
45ml egg white
5g cornflour
100g Maris Piper potatoes
Cheese custard ingredients
45g cave aged Cheddar
1 egg
10ml double cream (Parmesan rind infused)
Potato mousse ingredients
100g Maris Piper potatoes (using trim from souffle)
90g double cream
Cooking water from boiling potatoes
Sweet and sour leeks ingredients
2 baby leeks
10ml white wine vinegar
5g sugar
20 leek tops
25g olive oil
Garnish ingredients (optional)
Chive flowers
Chives
Thyme powder
Method
Dice the potato and place in salted water. Bring to the boil and simmer until cooked. Drain and keep potato water aside.
Place the cream and clean potato skins on the stove and bring to a simmer.
Place the cooked potato in blender with potato skin infused cream. Blend until smooth, adjust consistency with potato water if needed and season to taste. Place in espuma with 2 charges, shake well and set aside until ready to plate.
Place cream on stove with Parmesan rind and bring to a simmer.
In a thermo mix, place the grated Cheddar or any excess grated cheese you have, whole egg and Parmesan rind infused cream. Blend at 70'C for 7 minutes at speed 6. Strain through muslin cloth into a bowl submerged in ice water.
Make pickling liquor by adding vinegar and sugar and bring to a boil. Blanch, cut the leeks into rondels and mix with the leek oil and pickle liquor.
To make the pommes souffle, thinly slice the potatoes (using a mandolin if you have one). Make a cornflour and egg white paste.
Brush over corn flour paste on one potato disc and lay another disc on top. Cut to desired size and fry at 160'C, constantly basting with the hot oil until golden brown and puffed up.
Drain and set aside.
To plate, add leeks to the bottom of the bowl. Place mousse on top, thyme dusted pommes soufflé and arrange the chive flowers around it.