Zurek Soup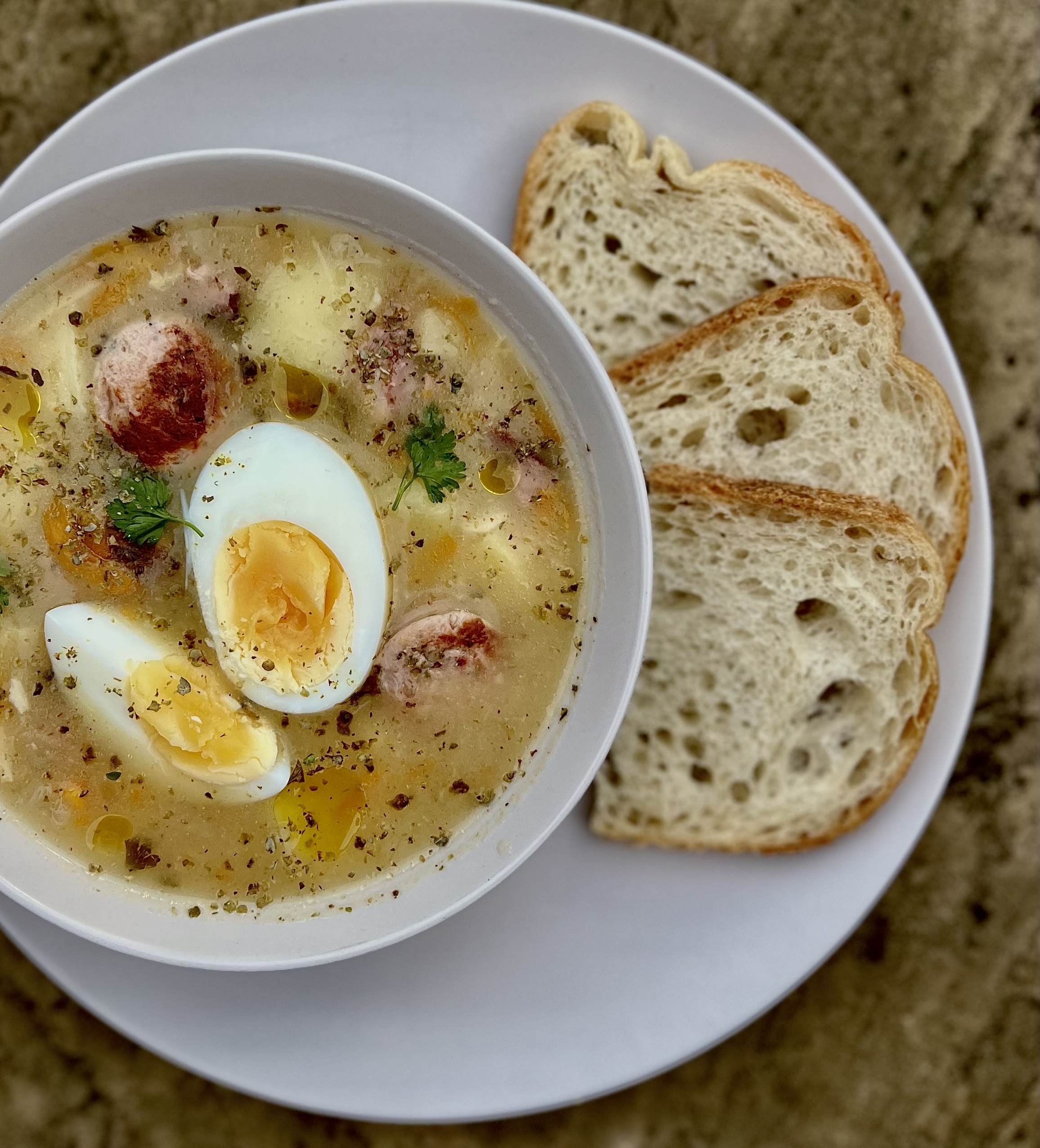 Commis chef Asia's Zurek soup is a recipe close to her heart. She said: "I had it growing up as a child, my Mum's version is so delicious! I have many fond memories of enjoying a bowl of this with my family. You don't see this recipe in the UK often. It uses a rye sourdough starter to thicken and flavour it, giving it a distinct sour taste, which I love. It's also easy to personalise; the authentic marjoram, smoked meat and Polish white sausage are my favourite ingredients in the recipe".
INGREDIENTS
200g unsliced smoked bacon, diced
200g medium white onion, diced
2 carrots, grated
1 carrot, diced
1 parsley roots, grated
1 parsley roots, diced
5 potatoes, peeled and diced
1 leek, whole
1 celeriac, roughly chopped
½ celeriac, grated
6 garlic cloves, grated
1 tbsp dried marjoram
Salt and pepper, to taste
1kg smoked ham bones
50g fresh horseradish, grated
4L water
4 links white sausage
10 whole all spice berries
500ml sour rye flour starter
(homemade or Zurek sourdough available in polish shops)
To serve
4 boiled eggs, halved
25g flat parsley, chopped
METHOD
Boil the white sausage in the water with the bay leaves and all spice for 10 minutes. Remove the sausage, slice, and fry until golden.
Add the bones to the water with t leek, garlic, marjoram, diced carrot, diced parsley root and celeriac. Simmer for 30 minutes or until half cooked and add the diced potatoes and grated vegetables. Continue to cook, until the vegetables are cooked.
Using a frying pan, fry the bacon and onion until cooked, but not too brown.
Add the horseradish, bacon and onion to the soup with the starter. Boil until thickened. Remove the leek, chopped celeriac, ham bones (pull off the meat) and add it back to the soup. Season to taste.
Finish with the chopped parsley and garnish with eggs.